Happy Holidays!!!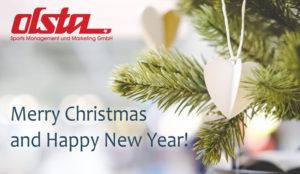 Je härter der Aufstieg, desto besser die Aussicht
Wäre 2020 ein Berg gewesen wäre, wäre er möglicherweise einer der steilsten, die es bisher zu besteigen gab. Auf einen solchen Berg zu gelangen und die Aussicht von dort aus zu genießen, ist eine der größten und lohnendsten Errungenschaften, die man erleben kann. Jetzt, da wir es praktisch hinter uns lassen und uns auf den nächsten Berg vorbereiten, nehmen wir uns einen Moment Zeit, um die Aussicht zu genießen. Wir denken nicht nur darüber nach, was wir gemeinsam erreicht haben, sondern auch darüber, wie der Aufstieg selbst und die Aussicht uns mit dieser neuen Erfahrung, neuen Energie bereichert und uns mehr Weisheit und Belastbarkeit gebracht haben, um jeden Berg zu besteigen, dem wir in Zukunft gegenüberstehen.
Für alle unsere Freunde, Kollegen und Partner haben wir nur einen Wunsch – egal wie steil er ist, bleiben Sie immer oben auf dem Berg!
Wir freuen uns auf ein Wiedersehen im Jahr 2021 und wünschen Ihnen frohe und besinnliche Feiertage!
THE HARDER THE CLIMB, THE BETTER THE VIEW
If 2020 was a mountain, it may have been one of the steepest to climb yet. Getting to the top of a mountain like this and enjoying the view from it is one of the greatest and most rewarding achievements that could be experienced. Now as we practically leave it behind and prepare to move on to the next mountain, we take a moment to appreciate the view. We reflect on not only what we have achieved together but also on how the climb itself and the view has enriched us with this new experience, new strength and brought us more wisdom and resilience to climb any mountain we face in the future.
To all our colleagues, partners and friends we have only one wish – no matter the steepness, always stay at the top of the mountain!
Looking forward to seeing you again in 2021!
Happy holidays!
"KO IMALO IZNAD BRDA STOJI, VIŠE VIDI NO ONAJ POD BRDOM…."
Da je 2020. godina planina, svakako bi bila jedna od nepokorivih I najnepristupačnijih za osvajanje. Dolazak na vrh takve planine i uživanje u pogledu s tog vrha svakako je jedno od najvećih i najvrednijih dostignuća koja se mogu iskusiti. Sada, kada faktički ostavljamo ovu godinu iza nas i spremamo se za pokoravanje novih vrhova zastali bismo na trenutak da uživamo u pogledu. Pogled se pruža ne samo na naša zajednička dostignuća, već i na sam uspon, i čini nas bogatijim za jedno novo iskustvo, ulivajući nam novu snagu, donoseći nam novu mudrost i pripremajući nas za buduće podvige i uspone.
Svim našim kolegama, partnerima i prijateljima poželeli bismo samo jedno – koliko god da je težak put uzbrdo, da uvek budu na vrhu planine.
Radujemo se susretima u 2021!
Srećni nastupajući praznici!
ЧЕМ ТЯЖЕЛЕЕ ПОДЪЕМ, ТЕМ ЛУЧШЕ ВИД
Если сравнить 2020 год с горой, то только с самой трудной для покорения. Подняться на вершины такой горы и любоваться видом с неё – одно из величайших достижений, которого можно добиться. Сейчас, когда мы практически оставляем за собой этот год и готовимся к подъёму на новую гору, хотим остановиться чтобы ещё раз полюбоваться видом. Мы созерцаем не только наши совместные достижения, но и само движение вверх, которые принесли нам новый опыт, наполнили нас новыми силами и сделали нас мудрее, подготовили нас к любым будущим подъёмам.
Всем нашим коллегам, партнёрам и друзьям желаем всего лишь одно – сколько бы ни крутой подъём ни был – всегда оставаться на вершине горы.
Ждём встреч с вами в 2021 году!
С наступающими праздниками!